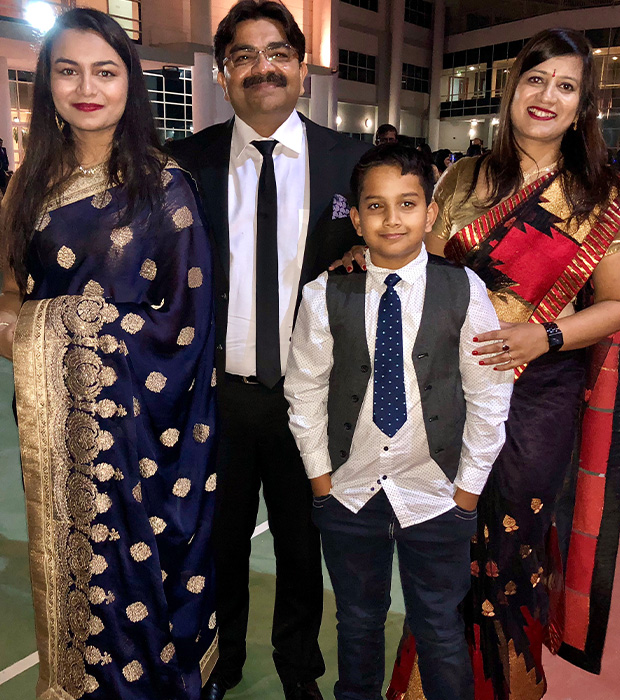 Swati Vats
Parent Testimonial
I am a proud parent of two Modernites, who has been associated with the school since 2004 when my daughter Aakanksha Rai joined the Modern family. While choosing a good school for her, my husband and I were looking for an institution that would not only impart quality education, but also look into the intellectual, emotional and social growth of our child. At Modern Academy, we have never been disappointed. Right from kindergarten, emphasis was given on an all-round development of the child's personality with the right blend of classroom teaching as well as extracurricular activities.
The school helped Aakanksha try various activities like girls scouts (bulbuls), elocution, tennis, swimming, clarinet, singing, art etc. till she was able to realize her passion for swimming and playing the guitar and work on honing those skills. The school helped develop her personality and gave her opportunities to learn life and leadership skills through her participation in various school events and competitions, swimming tournaments,
Duke of Edinburgh program and the school treks to the Himalayas. She was blessed with excellent teachers who laid a firm foundation in studies and taught her the importance of hard work, consistency and being disciplined. This led to her doing well in school and receiving many Azeem scholar awards, General Proficiency awards and the Varkey Scholarship. The support of her wonderful teachers helped her reaching her full potential and attaining All India Rank #2 in the ISC examinations and getting a 100% scholarship to study Computer Science at the prestigious National University of Singapore.
My son, Akshat Rai, is currently in Grade 9 and has been a part of the Modern family since joining kindergarten in 2010. He is a passionate cricketer and aspires to play for the Indian Cricket Team. The school cricket coach Mr. Shafeeq, spotted his talent in grade 3 and has helped him improve his skills through the intensive sessions during morning practice and ACE. The exposure he has received by participating in various inter-school tournaments and through the school trips to Kolkata and Dehradun have helped him further improve his game and develop the right attitude. It is difficult to maintain the balance between studies and intensive sporting activities; however the teachers have helped by taking extra classes whenever required to ensure that he doesn't lag in studies. This has enabled him to get the Azeem Scholar award for three years in a row. He has also been a recipient of the GEMS Sports Scholarship for 2018-19 and 2019-20.
What I like about the school is how they adapt to changing times and introduce new concepts and technologies to the children. The children get exposure to multiple facades of life. Along with quality education, sports, art, music, social work, wellness – each and every aspect of life is given importance. The senior leadership team (SLT) is open to suggestions from parents and students and are quick to implement ideas. Innovation Mela, ModernOtsav, Terra Vista, Career counselling sessions, sports carnival are some of many excellent initiatives implemented by the school.
I have always believed that parents and teachers need to work together in the best interest of the child and I am happy that Modern Academy gives importance to building a strong parent-school relationship. I have been actively involved with the school from the very beginning. I have never missed a single sports day, enjoyed the wonderful musicals produced by the school and have also participated in the parent-teacher throw-ball matches, Republic Day events, Independence Day flag hoisting and many cultural events. I was part of the Friends of Modern High in 2016-2017 and was glad to help streamline the online booking system for the end of term meetings. I also volunteered to mentor students during the Challenge Based Learning sessions and was amazed by the ideas that the young minds presented. I am a member of Spectacular8 and am thankful to Modern for supporting us in our efforts towards spreading awareness on the ill effects of cigarette butts and plastic littering on the marine life. I was delighted to participate in the Dadi Padamji's puppet show Hulm Mumkin produced by the school as part of the Summer program and was excited like a child to be performing on stage after my school days and learning the art of puppet making.
Along with the good times, there have been a few hurdles that we have crossed together and the school has always worked at finding a solution to the problems. The ease of being able to reach out freely to the principal and the SLT has always given me the confidence that my child is in safe hands.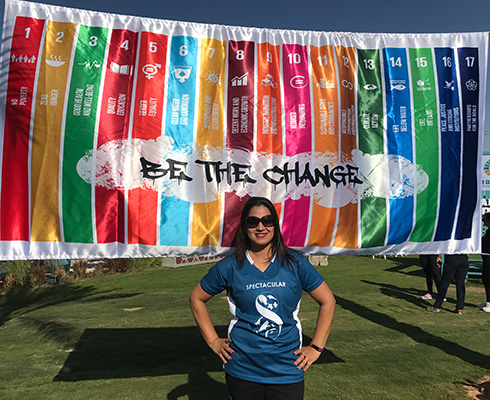 My journey with Modern Academy from 2004 till date, has seen two campus changes, three name changes - Modern High to Dubai Modern High to GEMS Modern Academy - and has been a happy one, creating memories for lifetime. I am proud of my daughter and I know she will do very well in life, thanks to the strong foundation built at Modern Academy by the amazing teachers. My son is also pursuing his dreams and I am sure he will be successful under the guidance of his teachers and coaches.
I conclude with a quote that aptly describes how GEMS Modern Academy helps develop future citizens - "Intelligence plus character-that is the goal of true education." Martin Luther King Jr