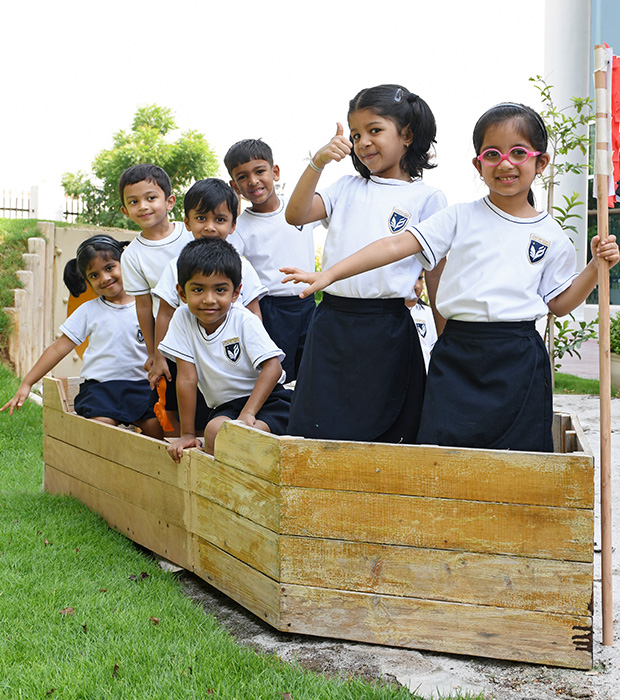 Facilities
GEMS Modern Academy has developed its campus and facilities over the years to offer a world-class range of options for students.
Educational Facilities
The facilities a school offers has a profound impact on both teacher and student outcomes. Bearing this in mind Modern's facilities are responsive to changing times and the various styles of educational delivery. We aim to provide facilities that are an integral component of conducive learning, comfortable and safe for students.
Modern offers the following facilities:
Five ICT Suites
Four Computer trolleys
S.T.E.M Lab
Budhayana – The Spark Lab – Makers Space Innovation Centre
Library for the Senior School
Primary Learning Centre
Discovery Centre
IB Lounge
Learning corridors
Meditation Garden
Planter's Patch
Sensorial Garden
Phoenix Classroom – The Learning Management System
Infrastructure provision for Bring Your Own Device (BYOD)
Regular checks and inspections are carried out and new equipment procured to ensure that our students have the best that is available.
Sports Facilities
Students are encouraged to be involved in sports games and activities that nurture their physical growth and development. We offer opportunities to participate in both individual and team-based activities that require students to work towards to designated and/or collective goal, strengthen camaraderie, develop the school community and allow students to advance their sporting skills and abilities or discover new ones.
Modern offers students the following state of the art facilities:
Four Basketball courts
Two Football Fields
A Cricket pitch
Volleyball court
8 lane synthetic track with areas for field events like long jump, Shot put, Discus throw and javelin throw
Two 25 meters swimming pools (one for Primary Students and a main pool with facilities for water polo)
Five Cricket nets with flood lights
Three Tennis courts
A Multipurpose hall with markings for Badminton and Basketball
A fully equipped Gym
A Cycling and roller skating track
Gallery of our Facilities