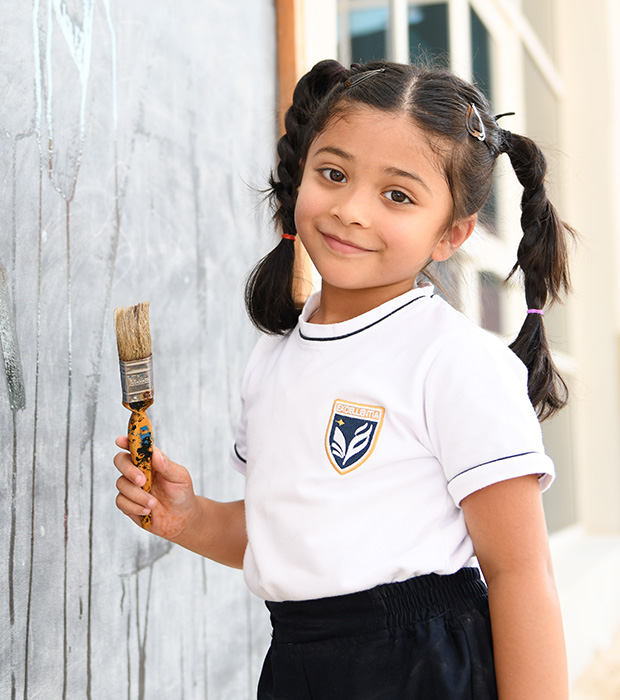 Vision and Mission Statement
Vision Statement
Inspiring children to be positive change-makers.
Mission Statement
GEMS Modern Academy aims to develop vibrant and exemplary students who are nurtured to achieve their optimal potential and work respectfully towards creating a more peaceful world. Modern provides opportunities for a holistic and all-inclusive student-focused learning environment (Dubai Inclusive Education Policy, Law No. (2), Executive Council Resolution No. 2) with an overarching emphasis on building mature and sensitive young people, with the cultural intelligence to make a positive difference in local and global communities.
Pastoral Care
With a view to foster a competitive spirit among its students, all students are divided into various 'houses'. A number of inter-house events that fill the calendar year cover the gamut of all sporting and literary activities. These activities become the ground work for competition at a higher level. The House System at Dubai Modern High School helps to inculcate a spirit of cooperation, healthy competition and develop loyalty both to the House and to the School. Each House is headed by a Captain, who works under the guidance of House Teachers.
The students are divided into four houses named after constellations. They are-
Aquila House, which is represented by the Eagle. The House Colour is Yellow. The motto of the House is "Do All Things Well." Soaring on the wings of persistence and self-confidence, the students learn to build foundations that strengthen the bonds of friendship and improve individual effort and team spirit.
Cygnus House, which is represented by the Swan. The House Colour is Red. The motto is "To Labour is to Pray." Just as a swan faces difficulties of life with serenity and dignity, the students learn to face everyday challenges with grace and poise.
Orion House, which is represented by the Hunter. The House Colour is Green. Students learn that in idea to make an ideal a reality, the qualities of a Hunter should be an integral part of their lives. Their obstacles can be overcome and dreams realized if they follow the House motto, "Labour through Faith."
Pegasus House, which is represented by the Winged Horse. The House Colour is Blue. The motto of the House is "Reach for the Stars." With this as the guiding force, the students are committed to constantly strive for excellence. For them, the sky is the limit.
Traditional Values
Modern believes in upholding traditional values, and the school is proud to celebrate our rich cultural heritage.
The school observes Independence Day, Republic Day, as well as occasions such as Gandhi Jayanti, Diwali, Eid and Christmas, promoting patriotism and universal brotherhood.
The School continues to send its pupils for Umrah.
In an effort to strengthen family bonds, Modern initiated Grandparents Day. On this special occasion, grandparents from across the world converge at Modern to be a part of their grandchildren's school life.
The School has a strong ethos of discipline and mutual respect along with a complete recognition of the diverse needs and abilities of all learners.