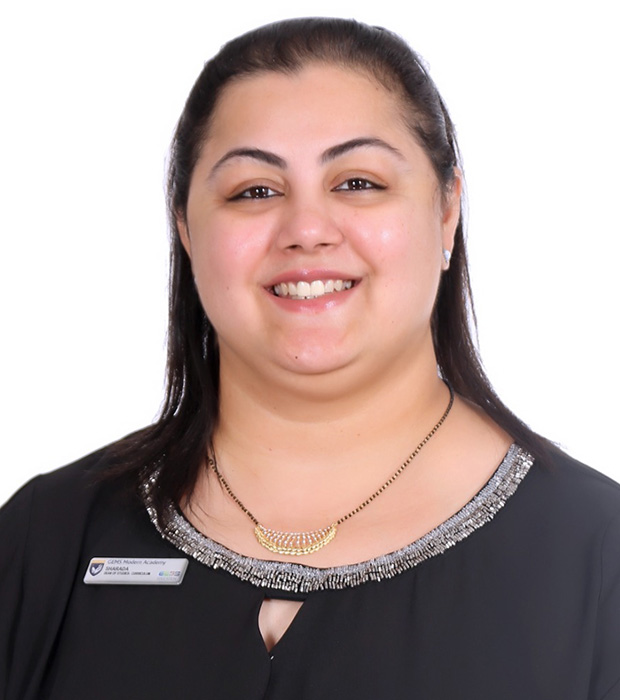 Sharada Kenkare
Dean of Curriculum
Sharada joined Modern as curriculum coordinator in 2012 and since then has been nurtured to capitalize on her potential in academic processes with an intellectual leaning and acumen for learning.
A post-graduate from Mumbai University, India and MPhil. from Alagappa University, India; with her experience in curriculum development and design, Sharada has worked extensively with teachers and students at Modern to map our curriculum with TIMSS and PISA assessment frameworks thereby enriching and raising attainment standards.
Prior to Modern, Sharada has worked as an under graduate lecturer of Zoology and for Kangaroo Kids Education Limited as Curriculum lead (IGCSE and ICSE) in the R&D department. In her capacity as School Support Manager with Educational Initiatives for UAE and Oman from 2011 to 2012, she had the opportunity to train and interact with educators across various Indian curriculum schools.
In her current role at Modern, Sharada effectively leads, assists and collaborates on most of the academic activities with an acute focus on Curriculum development, planning, and preparedness for external benchmark assessments.
As a member on the GEMS IRD (now GEMS X) and Project Zero's Creating Communities of Innovation project (2016 to 2018), along with 6 colleagues designed an innovative approach to curriculum transaction called the Futures Curriculum: A design based approach. She co-presented this with Project Zero at the Pittsburgh Conference in May 2017, and at KHDA What Works in November 2017.
A believer of lifelong learning, Sharada endeavors to be au courant with worldwide trends and development in curriculum and education by studying various curricula, attending conferences and professional learning courses.
"The meaning of life is find your gift. The purpose of life is to give it away." - Pablo Picasso