Parikrma Center of Learning
"The Best Way to Find Yourself is to Lose Yourself in the Service of Others" -Mahatma Gandhi
Parikrma Humanity Foundation is a non-profit organization located in Bangalore, India founded by Shukla Bose in 2003. The main objective of the Parikrma Humanity Foundation is to unleash the potential of underserved children, enabling them to live their life on equal terms and become valuable contributing members of society. Parikrma is a catalyst for effecting fundamental change in the way people perceive education of the poor and the marginalized.
A group of students from Gems Modern Academy were given the opportunity to visit the Parikrma Centers in Bangalore and serve their students. In order to raise funds, various activities were undertaken by us such as washing cars for the SLT and parents, making sandwiches and organizing bake sales. A variety of different types of books and costumes were also collected for donation from all the students.
Our trip to Bangalore lasted five days. We visited the Parikrma centers in Sahakar nagar, Jayanagar, Nandini Layout and Koramangala Village. Throughout our whole trip, we were guided by Kalpana Singh, Head Academics at Parikrma Humanity Foundation. Our students were divided into five groups- cooking, art, theatre, sports and packing, each being assigned tasks. We all had the pleasure to interact with the gifted and accomplished children of Parikrma, both inside and outside of the classroom. We were blown away by the talent showcased by the students of Parikrma through their breathtaking singing, dancing and acting skills. The stories shared by the students of Parikrma have accentuated their lives- the adverse living conditions faced, family backgrounds, lack of financial and moral support, and all the hardships undergone by them. Parikrma has played a vital role in helping them overcome these obstacles and instead use them as an advantage to grow and persevere.
Our trip solely being based on service and giving back to the community, we also visited Little Sisters For The Poor – Home For Aged and Shree Ramana Maharishi Academy for the Blind.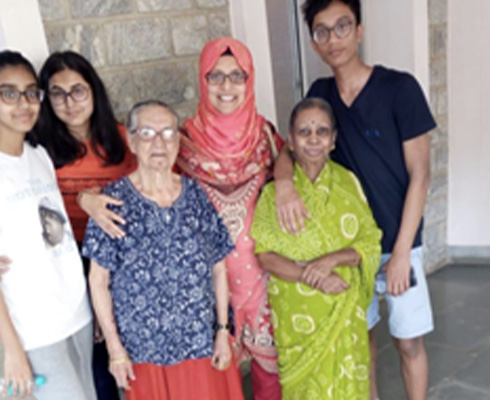 Little Sisters For The Poor is an old age home where certain elderly people are given shelter. The Little Sisters of the Poor has succeeded in creating a sense of family spirit among all its residents. Our students along with the students of Parikrma were given a golden opportunity to visit and have meaningful conversations with the elderly residents. Despite all the hardships faced by the residents of the home, they aspire to regain their physical and emotional well-being. We were addressed by one of the sisters on morals and respect for our families. Anecdotes on the lives of a few in particular were shared with us, filling our hearts with mercy and compassion.
Shree Ramana Maharishi Academy for the Blind, an organization giving hope primarily to thousands of children who are visually impaired.The vision of the academy is that, all people with disabilities will have the opportunity to fulfil their potential and live with self-respect and dignity. They strive to develop new ways of empowering people with disabilities.Our students along with the students of Parikrma were fortunate to have gained an insight into their unique lives. We all got a chance to interact with the students inside their classrooms and learnt about how they are educated with the help of Braille transcribers and audio textbooks.
The students of Parikrma Foundation succeeded in making our farewell special in every aspect and extremely memorable by distributing little tokens of appreciation in the form of eye-catching cards. We also received a vibrant and beautiful painting made by one of their students.This trip was truly a eye opening and life-changing experience for all of us. We made fond memories that will always be cherished. "No bridge too far, No mountain too high". The true essence of this statement from the Parikrma school song was distinctly highlighted. Despite the various obstacles faced by them they always manage to have a smile on their face. During these 5 days, we all got to make fond memories that will stay with us forever.This experience has taught us to be both grounded and grateful.
Written by Muskan Chawla (12B) and Bhavika Vohra (12A)