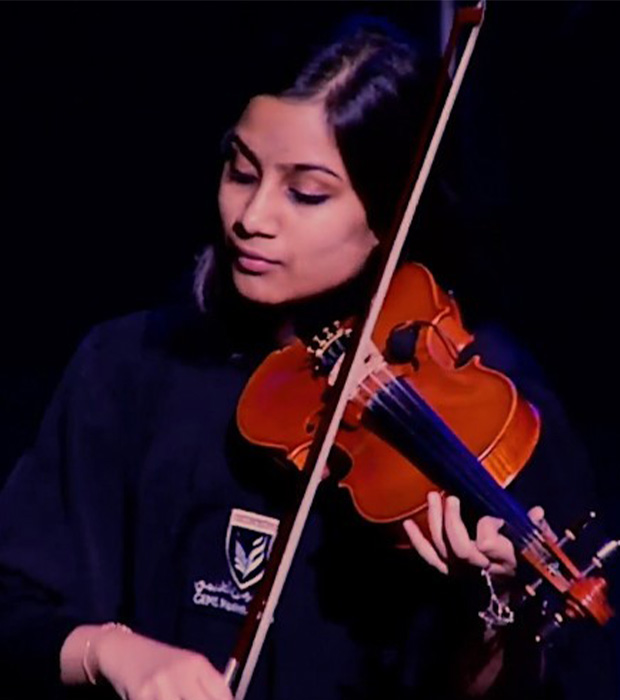 Outstanding Violinist
Nandini Agarwal
My musical journey began in 2008, when I was in Grade 3 at Modern. Mr. Pemba Tamang walked into our classroom room during music class, and played a beautiful excerpt on the violin. A year later I was part of Modern High's first ever orchestra, playing Twinkle Twinkle Little Star in front of an auditorium of parents on prize day. Unaware that my actions were shaping the rest of my life, I was staying back after school for extra practices, and would even be called on Saturdays and during summer vacations - previously unheard of for a primary school student. For the Grade 1 and Grade 3 Examinations, I achieved the highest mark in the UAE and was invited to local Trinity Exhibitions celebrating the best students. I exceeded my own expectations when I gave the Grade 6 exam, achieving the highest mark in the European and Middle Eastern regions. This led me to win the Trinity Exhibition Award in 2016.
The school orchestra was quickly advancing into a more complex repertoire, and would often be pulled out of class to perform at different events in and out of school. In 2015, the orchestra embarked on their first performances outside Dubai, as part of a tour to Vienna, Prague, and Salzburg. This was the time I slowly began to realise that maybe music wasn't just an extra-curricular activity for me - I couldn't imagine a life without it.
Every day, I am grateful for graduating from a school which was so supportive of my music career. Classroom activities and the dreaded 10th grade ICSE board examinations could not stop me from being part of 2 wonderful productions put up by Modern, The Wizard of Oz and Shakuntala. I was able to acquire my Trinity Grade 8 distinction certificate in Music Production, as well as Music Performance in Violin, by being a part of these spectacular shows.
In 2016, I was invited by the Dubai Chamber Orchestra to perform as the only student among working class professionals. It was my first experience being part of a professional orchestra.
It was definitely difficult to balance my roles in these orchestras along with the IBDP, preparing for the SATs, and the stress of college applications and auditions. However, my passion for music would not allow me to quit any activities I was part of, so I was left with learning how to manage my time effectively (and absolutely NO room for procrastinating!).
In the summer of 2017, I did the Five-Week Summer Performance Program at the Berklee College of Music, Bostonnand decided once and for all that I wanted to go to Berklee to study music after graduating from Modern. Thanks to the support I had received over the years, and my hard work, I got accepted to the college of my dreams.
My time management skills and involvement in different school activities eventually paid off, in the form of the GEMS Modern Academy Best Pupil Award 2018. As a farewell and thank you to being part of such an amazing institution, I donated my first violin from 2008 back to the school, in hopes that another student will pick it up and follow their own musical journey.
I started studying at Berklee in May 2018, just about 4 days after completing the IB Diploma Program. It was a hectic transition into college life, but one that I had been anticipating for a long time. The Extended Essay I completed during the IBDP, under the excellent supervision of Mr. Axel Rodericks, pushed my interests into the direction of Film Music and Orchestration. I am now proud to be an Ambassador for the Berklee College of Music, with a Dual Degree in Film Scoring and Composition, and a Minor in Contemporary Conducting.
My latest musical endeavour was an internship at La Perle by Dragone in Dubai this summer. La Perle is currently Dubai's #1 Show, the regions first show of its kind with a permanent aqua theatre. I worked in various departments including Sales and Marketing, General Stage, Artistic, Wardrobe, and Automation/Lighting, but my main activities were in the Sound department. Apart from learning the full function and operation of the spectacle, I was honoured to perform with the La Perle live band during the shows.
I am beyond grateful to everyone who has been a part of my journey, especially Modern for setting me off in this absolutely wonderful direction. I eagerly await the things to come!