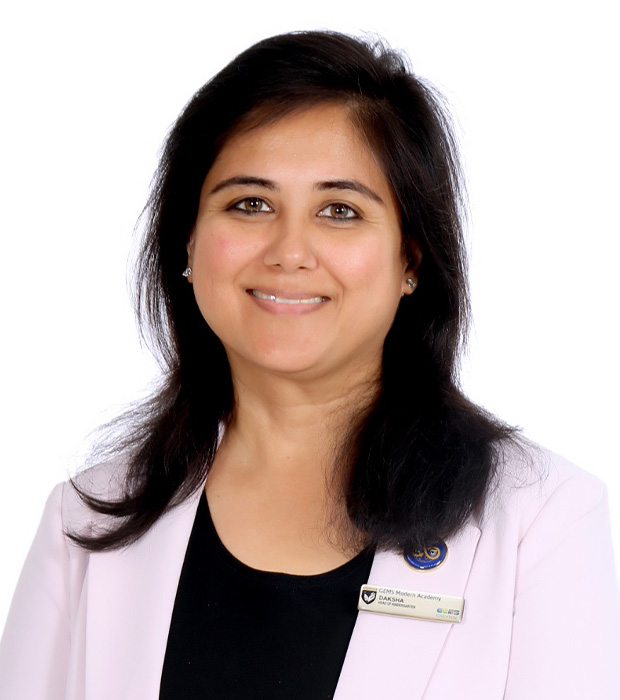 Daksha Mehta
Head Kindergarten
For every child we welcome at Modern, the focus is on holistic development catering to the 'whole' child. This is carried out with incredible intentionality and heart by our team of skilled educators. From the day your children walk through our doors, we endeavor to make them independent learners – we teach them to take care of themselves, manage tasks on their own, be responsible and accountable for the work they undertake. We craft experiences that enable them to acquire the right attitude, and the 'never give up' spirit.
They are encouraged to wonder, question and play with possibilities, create meaning for themselves and build understandings through exploring real world issues. They develop the agility and imagination to respond to new and unexpected challenges and opportunities in an increasingly globalized and uncertain world. They have opportunities to explore and expand their horizons, think things through for themselves, voice their opinion freely, yet respectfully, be compassionate and care for their environment. In short, they are being prepared for future success!
Bespoke programmes like the International Mindedness sessions, Khari Kamai, Kindness quilt, Environment Conservation programs encourage children to be Respectful, Kind and Compassionate to all living being and give back to our communities and the world we live in. Our Dot Day celebrations helps in inculcating the right attitude, learn about grit, resilience and acquire a Growth Mindset.
Our parents value the relationships that are nurtured here and the bonds and connections our children make, which underpins the ethos and values of our school. Every child is unique and is helped to develop their persona. Their experiences are valued and it is an integral part of learning process that helps our children grow into confident young adults.
There's a happy buzz in our classes and corridors where children are empowered to lead their learning.